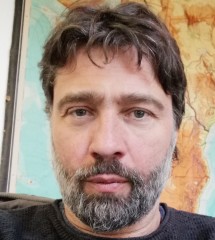 Aurélien Bodinaux
Aurélien Bodinaux was born and raised in Belgium on June 28th 1968.
After graduating from the Superior National Institute of Performing Arts (INSAS) with a diploma in acting, he obtains a BA (Bachelor of Arts) in Communication and an MFA (Master in Fine Arts) in Film Production at the University of New Orleans in the United States.
Next, Aurélien worked for a year as a lecturer in the same university. He then worked for three years as a financial consultant for Arthur Andersen in California. He also directed several short films such as the acclaimed Love Is Passing By with the trumpeter Nicolas Payton.
Back in Europe in 2000, he starts working as a production manager and director of development. Then in 2002 he creates an independent production company: Neon Rouge Production. Within Neon Rouge Production, he now develops, produces and directs feature films, fiction as well as documentary.
He regularly attends seminars and conferences, such as Entrepreneurs of European Audiovisual (MEDIA-EAVE), EURODOC or AFRICADOC. He gives trainings for international organizations such as APEFE, CIRTEF, Africalia or the International Film Festival of Namur (FIFF) (The Workshops 'From writing to screen').
Aurélien also works as an audiovisual expert. He leads, notably, Cinetoile a European project for promotion and distribution of African Cinema in Africa and he is a member of the Selection Committee for the Film Commission of the French Community of Belgium.