Long métrage Documentaire - 80' - En développement
Every year around 15th August, in the Appenine Mountains of the Region of Abruzzo, the small village of Collecorvino begins its transhumance to the "Campo Imperatore" to celebrate the "Madonna". The "males" who transported their families, their spouses and their cooking settle in to the "Campo". They'll remain there during five days and five nights in this supernatural scenery of a wide and splendid mountainous plateau, where only the eagles, the wolves, the bears and the shepherds of Abruzzo manage to live.
Traditional instruments, orgiastic smorgasbords, feast and bawdy popular songs are the menu of this holy week.
The documentary CAMPO IMPERATORE is an immersion into this universe through the eyes of the film director, originating from this country. He seeks the hidden beauty inside a secular and sometimes retrograde tradition.
In coproduction with Tact and GraffitiDoc.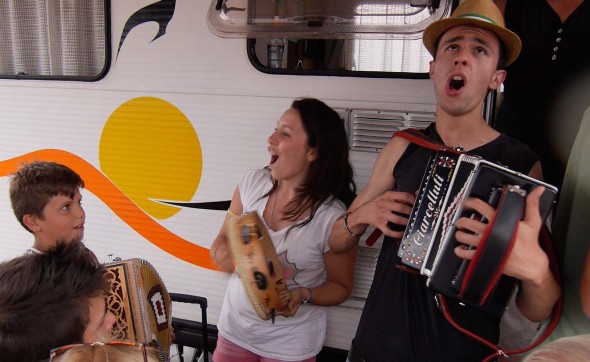 Credits:
Directed by Éric D'Agostino
Produced by Aurélien Bodinaux & Oualid Baha
Editing Antoine Donnet
Cinematographer Olivier Guerin
Audio engineer Origan Cannella
Re-recording mixer Jonathan Vaneste
Production Neon Rouge
Coproduction Tact Production & GraffitiDoc