Lendemains incertains
(2018)
Long Documentaire - 70' - En distribution
Written and directed by Eddy Munyaneza
June 2015, Burundi, thousands gather in the streets of Bujumbura to manifest against Pierre Nkurunziza's third mandate. As I film the first acts of violence and the victims therefrom produced, I become separated from my family. I'm obliged to flee, due to the increasing violence in the country and the risks bought on by making this film. The second half of the story is the search for my children in Burundi and Rwanda. On both sides of the frontier, I meet those who stayed and those who fled. Their stories, often brutal and fragmented, express a huge amount of uncertainty.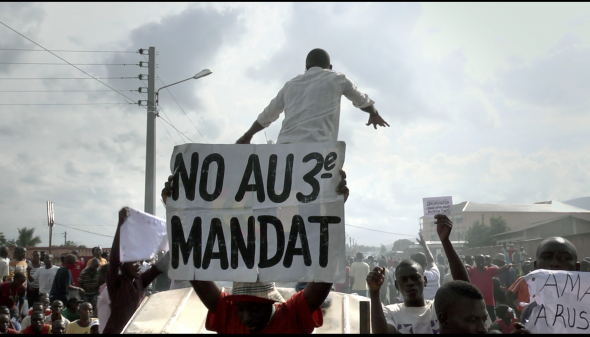 Credits:
Written and directed by Eddy Munyaneza
Produced by Aurélien Bodinaux
Production Neon Rouge Production
Coproduction by VraiVrai Films, Traces du Sud, Grand Lacs TV, TV Rennes 35 Bretagne, RTBF
Cinematograpgher Eddy Munyaneza
Editing Jean-François Hautin, Lucie Thierry
Sound Olivier Bright Ndayishimiye, Charisse Ayakaza, Jean-Claude Gasore
Sound mix Ivan Boussegoutte
Translation Monia-Bella Inakanyambo
Set design Rémy Bihan, Laurent Bitty
Production manager Amelotte Nikobamye
Set manager Célestin Gakwaya
Chauffeurs Belarmin Niyomukiza, Saïd Nsengiyumva
Avec la participation du CNC, de la région Nouvelle-Aquitaine et du département de la Charente-Maritime, de la Procirep-Société des producteurs et de l'Angoa, de la Fédération Wallonie-Bruxelles.
Photos from the film:
Festivals:
- Festival de Cine Africano - FCAT (Tarifa, Spain 27/04-05/05/2018)  Jury Mention
- Festival de Cine Africano - FCAT (Tanger, Morocco 26/04-03/05/2018)
- Afrika Filmfestival (Leuven, Belgium 04/2018) Official Selection
- 13ème Festival cinémas d'Afrique (Lausanne, Switzerland 08/2018) 
- 30th edition of the States General of Documentary Film (Lussas, France 08/2018)
- Festival des Cinémas d'Afrique de Toulouse Africlap (Toulouse, France 08-09/2018) Prix Paulin Soumanou Vieyra du meilleur documentaire 
- 16ème l'Afrika Film Festival Köln (Cologne, Germany 09/2018) Sélection officielle
- (AMAA2018) Africa Movie Academy Awards (Kigali, Rwanda 10/2018) Winner Best Documentary
- Afrikanisches Kultur- und Filmfestival Hamburg (Hamburg, Germany 11/2018) 
- Film Africa (London, UK 11/2018)
- (FICAB) Festival Internacional de Cines Africanos de Barcelona (Barcelona, Spain 11/2018)
- 28ième festival du film documentaire Traces de Vies (Clearmont FD, France 12/2018) Competition