Traces, Women's Imprints
(2003)
≤ 52' Documentaire - 52' - En distribution
Traces, Women's Imprints is the first episode of three documentaries that portray African Women Painters.
Traces, Women's Imprints is a film that ventures to the discovery of three grandmothers kassenas (Burkina Faso), their granddaughter, and the exclusively feminine art of this region's mural paintings.
Between these women's portraits and a traditional art form, Traces is a painting on paintings that reflects upon transmission, education and memory in the context of a world in mutation.
You can watch the film on Culture Unplugged. Culture Unplugged is an online festival. The films selected for the festival stay available on the website.
Watch the film on cultureunplugged.com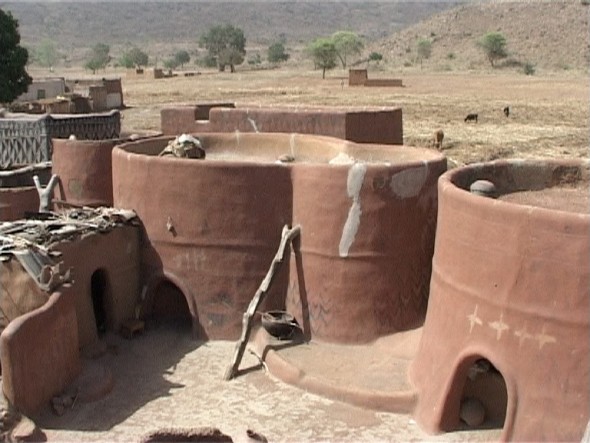 Credits:
Directed by Katy Lena Ndiaye
Produced by Aurelien Bodinaux
Production Neon Rouge
   
Assistant Director Youssouf Mission
Director of Photography Herman Bertiau
Translator Anetina Libabatou
Sound Engineer Lassina Siribié
Editing Simon Backès
Location Manager Atiou Kouhizoura
Original Soundtrack Erwin Vann
Sound Design Patrice Hardy
Sound Mix Manu de Boissieu
Color Correction Ronald Grauer
Editing Nicolas Dedecker
Credits Julien Ducenne
Subtitles Marc Bissot
Translator (Belgium) Christine Nakro
   
Production Assistant (Belgium) Severin Andrieu-Delille
Production Assistant (Burkina Faso) Benjamin Naseri
   
Artistic direction Kaye
In collaboration with
Africalia
Canal + Poland
CGRI
La Télévision du Burkina
Ministère de la Fédération Wallonie-Bruxelles
Organisation Internationale de la Francophonie
RTBF
TV Brasil
TV5 Monde
YLE
Distributed by
Libérations Films
Médiathèque des Trois Mondes
Neon Rouge Production
Technical Details:
Genre Documentary – colors
Released January 2003
Language French
Subtitles French, English, Dutch, Spanish, Portuguese
Format 16/9
Sound stereo
Shot on DV Cam
Available on Beta SP & DVD